07/06/2019, Delhi: Hysterectomy is the surgery to remove women's uterus and may also involve the removal of the cervix, ovaries, fallopian tubes, and other surrounding structures. The reasons for hysterectomy could be uterine fibroids that cause pain, bleeding, or other problems, uterine prolapse, and several other related issues. The problems like abnormal uterine bleeding should initially be treated medically, but if the condition takes a severe turn then laparoscopic uterus removal surgery can be considered by gynecologists. Though hysterectomy can be done in many ways Introduction of robot-assisted surgery to treat such abnormality is one of the most remarkable technological innovations in the field of medical sciences in India. But nevertheless, besides every controversy, robotic surgery is helping people across the globe with its benefits over conventional techniques.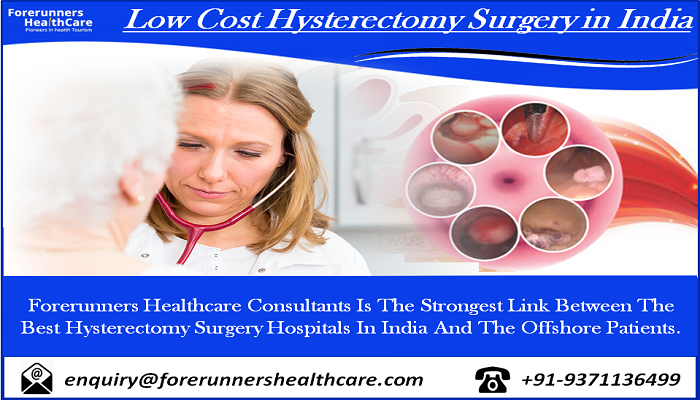 As per many experts in the field, the establishment of a robot-assisted approach to hysterectomy has led to an increase in minimally-invasive procedures compared to open surgery with contrary accompanied by a decrease in the use of traditional laparoscopy. Robotic surgery involves technique represents a further development in laparoscopic surgery, during which the instruments are navigated by the surgeon using control masters while sitting at a console providing a three-dimensional and high-definition vision of the site.
To get free no obligation Quote For Hysterectomy Surgery in India : 
click here
With every new emerging technology, the basic question lies in its affordability in over 80% of the population. Robot-assisted hysterectomy in India is affordable and is operated under extreme precaution. Best robotic surgeons and hospitals backing up the surgical procedure has attracted patients not only within the country but also from overseas. The aspect that has never been questioned about robotic hysterectomy surgery is the effect of a robotic surgical approach on the surgeon. Some recent reports even call it an ergonomic approach to perform surgeries as compared to the classic laparoscopy. India is a well-known name in the field of robotic surgeries and has been providing surgical benefits for a very long time. Hysterectomy surgery in India is quite budget friendly and is being practiced successfully in India. One of the best medical providers for an affordable hysterectomy is forerunners healthcare in India.
Forerunners are not only the leading medical service providers in India. They provide comprehensive medical tourism packages guiding patients all the way to the end of their surgeries. They provide comprehensive medical tourism packages as per patient requirements and necessity.
Forerunners Healthcare Consultants
Flat No. 551, South Delhi Apartment
Sector - 4 Dwarka
Delhi - 110053
India
Phone No.: +91-9371136499